CLIMATE CHANGE IN THE CHEMISTRY CURRICULUM FOR SECONDARY SCHOOLS: MALAYSIAN CONTEXT
Abstract
Chemistry is a study about particles and is believed as an appropriate subject to develop awareness among students to love and to care the environment.  Among the aims of the Malaysian Secondary School Chemistry Curriculum is to develop a concerned, dynamic and progressive society with science and technology culture that values nature and works towards the preservation and conservation of the environment (Ministry of Education, 2005).  In order to accomplish this aim, one of the issues that become very critical is environmental issues such as climate change, is suitable to be incorporated in Malaysian Chemistry Curriculum since it's related to human activities.  By integrating this issue, it will help teachers to develop students' awareness on the importance of protecting our environment and assume responsibility for sustainable future.  The purpose of this article is to analyse the existing Malaysian Secondary School Chemistry Curriculum and to propose new topics and activities based on the climate change which is seemed to be neglected from the curriculum by curriculum developers.  The analysis is conducted by using document analysis approach.  Suggestions of activities related to climate change are proposed which is interrelated with the current chemistry concept in existing curriculum. 
Keywords: chemistry curriculum, climate change, environment education
REFERENCES
Abdul, G., & Aziah, I. (2007).  Kesediaan memperkasa pendidikan pembangunan lestari oleh pengurus pendidikan sekolah: Satu kajian kes.  Universiti Sains Malaysia.  http://www.iab.edu.my/jurnal.  [10 November 2009]
Aini, M. S., Fakhru'l-Razi, L. P., & Jariah, M. (2003).  Environmental concerns, knowledge and practice gap among Malaysian teachers.  International Journal of Sustainability in Higher Education, 4(4), 305-313.
Anatas, P., & Warner, J. (2000).  Green chemistry:  Theory and practice.  Oxford University Press: New York.
Bharati, V. B. (2008). Concept of green chemistry: Redesigning organic synthesis. Resonance, 1041-1048.
Berhanudin, M. S., Esa, A., Sulaiaman, A., & Othman, H.  (2007).  Adopting PBL in the teaching of engeneering undergraduates: A Malysian experience.  International Conference on Engeneering Education –ICEE 2007.  Portugal.
Chawla, L. (1998). Research methods to investigate significant life experiences: review and recommendations. Environmental Education Research 4(4): 383-397.
Feirabend, T., Jokmin, S., & Eilks, I. (2011). Chemistry teachers' view on teaching 'climate change"-an interview case study from reseach-oriented learning in teacher education. Chemistry Education Research and Practice, 12, 85-91.
Haskin, J. (1999).  Environmental education in the United States: Teaching in the present, preparing students for the future.  International Symposium on Environmental Education, Tokyo, Japan. http://education.jhu.edu/newhorizons. [20 September 2007].
Komala Devi, T. (2009).  The impact of green chemistry experiments on environmental motivation among form five students.  Practicum Report.  Universiti sains Malaysia.
Manahan, S. E. (2006). Green chemistry and the ten commandments of sustainability.  Chem Char Research, Inc.
Ministry of Education Malaysia (2005).  Integrated curriculum for secondary schools : chemistry curriculum specifications form 4 and 5.
Parker, S. (1989). Easy chemistry.  Utusan Publication and Distribution Sdn. Bhd: Kuala Lumpur.
Sharifah Norhaidah, S. I., & Hashimah, M. Y. (2006).  Malaysian pre and inservice teacher prepareness in teaching for sustainability. The 2006 International Organization of Science and Technology Education (IOSTE) Symposium, Penang, Malaysia.
Sharifah Norhaidah, S. I. (2006).  The UN decade for ESD: Implication and Challenges for the School of Educational Studies at Universiti Sains Malaysia.  http://www. deakin.edu.au. 
[20 Oktober 2009]
Toh, W. S. (2003).  Student-centered-pedagogy: Last we forget.  http://www.ipbl.edu.my/inter/penyelidikan/jurnalpapers/jurnal2003/2003_toh.pdf. 
[18 Mei 2004]
UNESCO. (2006). UNESCO's role, vision and challenges for the UN decade of education for sustainable development (2005-2014). http://www.unesco.org/eu/esd.  [ 20 January 2010]
Zurida I., Mageswary, K., & Norita, M. (2009).  Inculcating environmental values in malaysian chemistry student teachers through active learning.  Diges Pendidikan, 9(1): 68-77.
What You Can('t) Do About Global Warming. (2009).
http://www.worldclimatereport.com/index.php/2009/04/30/what-you-cant-do-about-global-warming/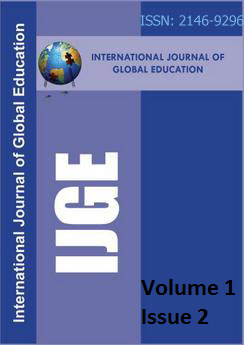 Downloads
License
Copyright (c) 2012 International Journal of Global Education (IJGE) ISSN: 2146-9296
This work is licensed under a Creative Commons Attribution 4.0 International License.