IN SEARCH FOR CULTURAL IDENTITY: STRATEGIES OF ETHNO-CULTURAL EDUCATION IN LITHUANIAN GENERAL EDUCATION SCHOOLS
Abstract
Many researchers of education and culture maintain that contemporary culture undergoes essential changes. The young generation understands culture and its aims differently from their parents. They are easily influenced by present day culture. The previously valued national ideals, symbols, history, language, religion have a different meaning for them. At the same time the personal cultural identity is changing and becoming hybrid. As one of the most frequently presented ways how to resist globalization and to preserve one's cultural identity is the development and fostering of ethnic culture. The article will analyze the situation of ethnic culture and ethno-cultural education in Lithuania. Following the data of the qualitative research "Identity, cultural transmission and national education" (2010), the attitude of learners (11th formers) and educators (learners' parents, grandparents and teachers) towards the importance of ethnic culture in the process of education to the (self-)formation of cultural identity as well as various strategies for ethno-cultural education in school are discussed.

References

Anderson, B.  (1994). Imagined communities: reflections on the origin and spread of nationalism. London; New York: Verso. 

Bhabha, H. K. (1990). Narrating the nation. In H. K. Bhabha (Ed.). Nation and narration. London: Routledge. p. 1-7.

Brubaker, R., Cooper, F. (2000) Beyond "Identity". Theory and Society, 29, p. 1-47.

Castells  M.  (2006). Tapatumo galia. Vilnius: Poligrafija ir informatika.

Čepienė, I. (2001). Dėl šiuolaikinio etnokultūrinio ugdymo mokykloje. Problemų analizė. Etninė kultūra: informacinis leidinys. Vilnius, p. 33.

Čepienė, I. (2008). Lietuvių etninė kultūra. Raidos įžvalgos. Vilnius: Alma litera.

Čepienė, I. (1997).  Etninės kultūros ugdymo vidurinėje mokykloje ypatumai. Etninė kultūra atkurtoje Lietuvos Respublikoje. Vilnius, p. 49 – 52. 

Čepienė, I. (2001). Mokyklos reikšmė tautiniam ir patriotiniam ugdymui. Etninė kultūra: informacinis leidinys. Vilnius, p. 32.

Čičinskas J. (2006). Europos sąjungos kultūros politika kaip nacionalinės kultūros veiksnys. Lietuva globalėjančiame pasaulyje. Vilnius: Logos, p. 249 - 273.

Duoblienė, L. (2006). Tarpkultūrinis ugdymas: tautinio tapatumo ir/ ar dialogo su Kitu paieškos.

Lietuva globalėjančiame pasaulyje. Vilnius: Logos. p. 224–248

Duoblienė L. (2009). Ar pavyks išvengti hibridinio tapatumo formavimo(si) informacinėje visuomenėje. Acta paedagogica Vilnensia.  23, p. 79-91.

Grigas, R. (2010). Lietuvių nacionalinė tapatybė: "Krizės asmenybė" ir jos tipažai. Website: http://www.savastis.lt/uncategorized/lietuviu-nacionaline-tapatybe%e2%80%9ckrizes-

asmenybe%e2%80%9d-ir-jos-tipazai/ [2010 12 15]

Hall, S. (1992). The question of cultural identity.  Website: http://www.csuchico.edu/~pkittle/101/hall.html [2010 11 03]

 Klerides, E. (2009). National Cultural Identities, Discourse Analysis and Comparative Education. Springer International Handbooks of  Education. 1, Volume 22, International Handbook of Comparative Education. p. 1225-1247. Website:  http://www.springerlink.com/books/?k=comparative+education  [2010 10 12]

Krukauskienė, E., Trinkūnienė I. (2002). Etninės kultūros raiška ir sklaida vidurinėje švietimo grandyje. Sociologinis tyrimas.  Website: http://www3.lrs.lt/pls/inter/w5_show?p_r=2232&p_d=19705&p_k=1 [2010 11 06]

Lietuvos švietimas. Tik faktai. Metinis pranešimas. (2010). (Lithuanian education. Just the facts, 2010).Vilnius: ŠAC. 

Lukšienė M.  (2000). Jungtys. Vilnius: Alma littera. 

Nabeth, T.  (2009). Identity  of  Identity. The Future of Identity  in the Information Society, London, New York: Springer. p. 19-69. 

Rapoport, A. (2009). Lonely Business or Mutual Concern: The Role of Comparative Education in the Cosmopolitan Citizenship Debates. Current issues in Comparative Education. 12, p. 23-32. Sadler, M. (1964). How far can we learn anything of practical value from the study of foreign systems of education? Comparative Education Review, 7(3), p. 307–314.

Trinkūnienė, I. (2010). Etninė kultūra mokyklose: mokytojų patirties tyrimas. Liaudies kultūra. 4,  p.  21-29.

Trinkūnienė, I. (2010a).  Etninė kultūra ir neformalus ugdymas: mokytojų patirties tyrimas. Liaudies kultūra. 6,  p.  46-53.

Wodak, R., De Cillia, R., Reisigl, M., & Liebhart, K.  (1999). The discursive construction of national identity. Edinburgh:  Edinburgh University Print.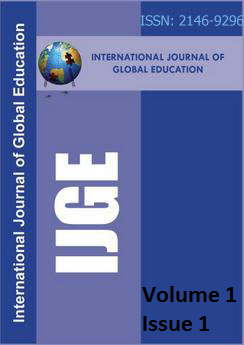 Downloads
License
Copyright (c) 2012 International Journal of Global Education (IJGE) ISSN: 2146-9296
This work is licensed under a Creative Commons Attribution 4.0 International License.