AN ANALYSIS OF THE MANAGEMENT OF THE NAMIBIAN INFORMATION COMMUNICATION TECHNOLOGY SCHOOL CURRICULUM PLANNING
Abstract
The Namibian Educational sector acknowledges the impact that technology bears in education, however, ICTs have not been thoroughly immersed in classroom practice. A policy document which purports for the preparation of all Namibia's learners, students, teachers, and communities was drafted but its implementation has not provided much fruition. The chief tenet of this article is that proper planning, organisation, supervision and communication leads to proper implementation of policies. If the Namibian education sector is to achieve the above, significant improvement in immersing ICTs in the classroom would be achieved. The paper begins with a discussion of the current status quo of ICT in the Namibian education sector. Then, it explores the importance of thorough planning, organisation, supervision and communication of the implementation of the ICT curriculum in the Namibian education sector.
Keywords: management, communication technology, Namibian
REFERENCES
Blurton, C. (2002). New Directions of ICT-Use in Education. Available online http://www.unesco.org/education /educprog/lwf/dl/edict.pdf; accessed 7 August 2002.
Burns, M. (2006). Using ICT for teacher professional development in Namibia: Working paper no.1
Dot-CoMments. (2007). Going the extra mile in Namibia: The importance of supports. Retrieved October 25, 2011, fromhttp://www.dot_com_alliance.org/newsletter/article.php?article_id=153
Earley, B. & Bubbb, S. (2004). Leading and managing continuing professional development: Developing people, developing schools. London: Paul Chapman.
Fullan, M. (2001).Change forces. London: The Falmer Press.
Ministry of Education. (2005). Education and Training Sector Improvement Programme (ETSIP). Windhoek: MoE.
Ministry of Education. (2006). TECH/NA!: Namibia's ICTs Steering in Education. Windhoek: MoE.
Ministry of Education.(2007). Minutes of ICTs Steering Committee. Windhoek: MoE.
Middlewood, D. (2003). The role of senior curriculum managers.In M. G.-J.Coleman., Graham-Jolly, M. and Middlewood, D. (Eds.). Managing the curriculum in South African schools (pp. 65 - 82). London: Commonwealth Secretariat.
Miller, L. (2002). Redefining teachers, resulting schools: Connections, commitments and changes. In Hargreaves, A., Lieberman, A., Fullan, M. and Hopkins, D. (Eds.).International handbook of educational change. Dordrecht: Kluwer.
Rhodes, C., Stokes, M. & Hampton, G. (2004).A practical guide to mentoring, coaching, and peer-networking: Teacher professional development in schools and colleges. London: Routledge.
Rogan, J.M. & Grayson, D.J. (2003).Towards a theory of curriculum implementation with particular reference to science in education in developing countries.International Journal of Science Education, 25(10), 1171 - 1204.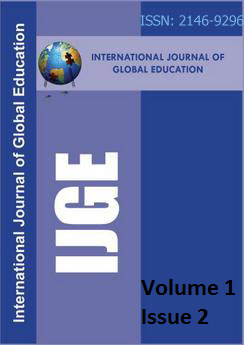 Downloads
License
Copyright (c) 2012 International Journal of Global Education (IJGE) ISSN: 2146-9296
This work is licensed under a Creative Commons Attribution 4.0 International License.