SCHOOL-PARENT PARTNERSHIP AS PART OF SCHOOL GOVERNANCE STRUCTURE
Abstract
School- parent partnership plays an important role in student development by providing a stronger school-parent relationship leading to student achievement with the cooperation of teachers, parents and school administrators (Aslanargun, 2007). Also, the partnership is generally a part of school governance structure and should be involved in the learning and teaching process to increase the quality of learning and students' achievement through parental involvement.In this context, the purpose of this study was to evaluate how the current school-parent partnership policy was functioning in Turkey and explore its different dimensions from the perspectives of its different stakeholders to better understand the current interactions and roles its stakeholders have in this process. Qualitative research design was employed to obtain rich and in-depth information and the sample school was purposefully selected due to its distinct success in a disadvantaged area and its recent reputation in the media. Michael Patton's Utilization-Focused Evaluation Model was taken as the basis and the data were collected via semi-structured interviews from parents, teachers, school administrators and the partnership members in this public school and analyzed through content analysis. The results revealed that the partnership was functioning well in terms of its formation and daily duties related to the school's short-term needs, but that it was having some difficulties in providing constant financial support for the school, organizing and taking part in extra-curricular educational activities for the students and involving the parents in their children's school education.
Keywords: school-parent partnership, parent involvement in education, school governance
References
Anonim (2005).OkulAileBirliğiYönetmeliği. ResmiGazete: 31.05.2005, 25831: 25-32.
Aslanargun, E. (2007). Okulailebirliğiveöğrencibaşarısıüzerinebirtaramaçalışma.SosyalBilimlerDergisi, 18, 119-135.
Balkar, B. (2009). Okul- aileişbirliğisürecineilişkinveliveöğretmengörüşleriüzerinenitelbirçalışma.ÇukurovaÜniversitesiEğitimFakültesiDergisi, 36 (3), 105-123.
Ceylan, M. &Akar, B. (2010).Ortaöğretimdeokul- aileişbirliğiileilgiliöğretmenveveligörüşlerininincelenmesi.ÇankırıKaratekinÜniversitesiSosyalBilimlerEnstitüsüDergisi, 2, 43-64.
Çelenk, S. (2003).Okulbaşarısınınönkoşulu: Okulailedayanışması. İlköğretimOnline, e-dergi, 28-34.
Çelik, N. (2005). Okul- aileilişkilerindeyaşanansorunlar.Yayınlanmamışyükseklisanstezi.İstanbul: Marmara ÜniversitesiEğitimBilimleriEnstitüsü.
Demirbulak, D. (2000). Veli-ÖgretmenGörüsmeleri _le _lgiliBirÇalısma.MilliEgitim. 146. http://yayim.meb.gov.tr/dergiler /146/ demirbulak.htm
Ehrensal, P. A. L. & First, P. F. (2008). Understanding school board politics: Balancing public voice and professional power. In Cooper, B. S. ,Cibulka, J. G. &Fusarelli, L. D. (Eds.), Handbooks of Education Politics and Policy (pp. 73-84).
Ereş, F. (2009).Okulailebirliğiyönetmeliğindebulunangörevleringerçekleştirilmesineyöneliköğretmengörüşleri.ÇağdaşEğitimDergisi, 34, 22-28.
Fetterman, D.M. (2001). Foundations of Empowerment Evaluation. Thousand Oaks, CA: Sage.
Genç, S. Z. (2005).İlköğretim 1.Kademedekiokul- aileişbirliğiileilgliöğretmenveveligörüşleri.GaziÜniversitesiTürkEğitimBilimleriDergisi, 2(3), 227-243.
Gökçe, E. (2000). İlköğretimdeokul- aileişbirliğiningeliştirilmesi.PamukkaleÜniversitesiEğitimFakültesi Dergisi,7.
Gurr, D. ,Drysdale, L. &Wakley D. M. (2012). School- parent relations in Victorian schools.Journal of School Public Relations,33, 172-198.
Kıncal, R. Y. ( 1991). Aileveeğitim.BilimveAklınAydınlığındaEğitimDergisi, 15, 68-72.
Patton, M., Q. (2008).Utilization-Focused Evaluation, New York: Sage Publications.
Porsuk, A. / Kunt, M. (2012).Denizlimerkezilköğretimokullarındakiokul- aileilişkilerindekarşılaşılansorunlarüzerineyöneticigörüşleri.PamukkaleÜniversitesiEğitimBilimleriDergisi, 31, 203-218.
ResmiGazete. (1961). İlköğretimveeğitimkanunu, Sayı: 10705.
ResmiGazete. (2005a). Millieğitimbakanlığıokul-ailebirliğiyönetmeliği, Sayı:25831.
Sabancı, A. (2010). Views of primary school administrators, teachers and parents involvement in Turkey.Eurasian Journal of Educational Research, 36, 245- 262.
Stake, R. E., &Abma, T. A. (2005).Responsive evaluation.In S. Mathison (Ed.), Encyclopaedia of evaluation (pp. 376–379). Thousand Oaks: Sage.
Steketee, A. M. (2004). For-Profit Education Service Providers in Primary and Secondary Schooling: The Drive For and Consequences of Global Expansion. Indiana Journal of Global Legal Studies, 171-204.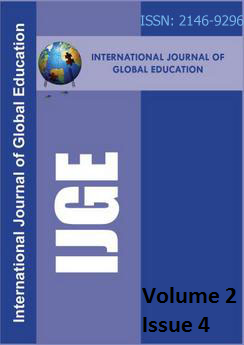 Downloads
License
Copyright (c) 2013 International Journal of Global Education (IJGE) ISSN: 2146-9296
This work is licensed under a Creative Commons Attribution 4.0 International License.