OUT OF THE CLASSROOM, ONTO THE STREETS: LEARNING SOCIAL RESEARCH BY DOING SOCIAL RESEARCH
Abstract
This paper reports and assesses a semester-long activity-based approach to learning social research methods. Unlike more typical research methods classes which depend on lectures, readings, and tests, this class used a series of projects that moved students out of the classroom into a progressive series of research activities using Istanbul itself as the primary locale for learning. From the first session of the semester, two related research questions, "What makes a successful street beggar?" and "How do people in Istanbul interact with street beggars," guided a collaborative research project involving more than forty students and their instructor. Students used observation, role-taking, interview construction and gathering interviews, survey construction and administration, and data analysis as research tactics to address the research questions. Students report that they learned more through these activities than through usual classroom learning and they endorsed the approach for their other classes. Suggestions for adapting this approach for other classes are listed.
Keywords: classroom, streets, learning, social research
References
Angelo, Thomas A.  1999.  "A 'Teacher's Dozen': Fourteen General, Research-Based Principles for Improving Higher Learning in Our Classrooms."  Pp. 4-9 in Bernice Pescosolido and Ronald Aminzade (eds.), Fieldguide for Teaching in a New Century.  Thousand Oaks, CA: Pine Forge.
Belenky, Mary Field, Blythe Mcvicker Clinchy, Nancy Rule Goldberger, and Jill Matluck Tarule.  1997.  Women's Ways of Knowing: The Development of Self, Voice, and Mind. 10th anniversary edition. New York: Basic Books.
Cadwallader, M. L. and C. A. Scarboro. 1982. "Teaching Writing within a Sociology Course." Teaching Sociology 9(4): 359-82.
Dewey, John.  2008 (1916).  Democracy and Education. Radford, VA: Wilder.
_____.  1977 (1938).  Experience and Education.  New York: Simon and Schuster.
Foucault, Michel. 1979.  Discipline and Punish: The Birth of the Prison. New York: Vintage Books.
Freire, Paulo.  1990.  Pedagogy of the Oppressed.  Trans. Myra Bergman Ramos.  New York: Continuum.
Horton, Myles and Paulo Freire.  1991.  We Make the Road by Walking: Conversations on Education and Social Change. Philadelphia: Temple University Press.
Keith, Bruce and Helen A. Moore.  1995.  "Training Sociologists: An Assessment of Professional Socialization and the Emergence of Career Aspirations."  Teaching Sociology 23:199-214.
Kohl, Herbert.  1994.  "I Won't Learn from You" and Other Thoughts on Creative Maladjustment.  New York: New Press.
Kuh, George D.  1995.  "The Other Curriculum: Out-Of-Class Experiences Associated with Student Learning and Personal Development."  Journal of Higher Education 66(2):123-155.
 McKinney, Kathleen, David Saxe and Laura Cobb.  1998. "Are We Really Doing All We Can for Our Undergraduates? Professional Socialization via Out-Of-Class Experiences."  Teaching Sociology 26:1-13.
Montessori, Maria. 1995. The Absorbent Mind. With forward by John Chattin-McNichols. New York: Henry Holt.
Palsson, Gisli.  1994.  "Enskilment at Sea."  Man (New Series) 29(4):901-927.
Paul, Richard.  1999. "Critical Thinking, Moral Integrity, and Citizenship: Teaching for the Intellectual Virtues."  Pp. 128-136 in Bernice A. Pescosolido and Ronald Aminzade (eds.), The Social Worlds of Higher Education: Handbook for Teaching in a New Century.  Thousand Oaks, CA: Pine Forge.
Perry, William G., Jr.  1970.  Forms of Intellectual and Ethical Development in the College Years: A Scheme.  New York: Holt, Rinehart, and Winston.
Ranson, Stewart, Jane Martin, Jon Nixon and Penney McKeown.  1996. "Towards a Theory of Learning." British Journal of Educational Studies 44(1): 9-26.
Scarboro, Allen. 2004. "Bringing Theory Closer to Home Through Active Learning and Online Discussion." Teaching Sociology 32(2): 222-231.
Song, Liyan, Michael J. Hannafin and Janette R. Hill.  2007. "Reconciling Beliefs and Practices in Teaching and Learning." Educational Technology Research and Development 55(1): 27-50. Retrieved 12 September 2013, http://www.jstor.org/stable/30221228.
Takata, Susan R. and Wanda Leiting. 1987. "Learning by Doing: The Teaching of Sociological Research Methods. Teaching Sociology 15(2): 144.150.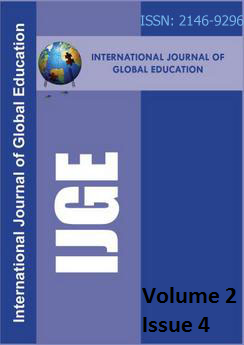 Downloads
License
Copyright (c) 2013 International Journal of Global Education (IJGE) ISSN: 2146-9296
This work is licensed under a Creative Commons Attribution 4.0 International License.