THE ACCEPTANCE AND USE OF E-BOOKS: A GROUP STUDY IN NIGERIA
Abstract
The academic institutions in Africa have begun to offer e-books. The study described a survey conducted on the members of faculty at the University of Ilorin, Nigeria, to investigate the factors affecting user preferences and patterns of the use of e-books.  The study examined the ways in which users are interacting with e-books, compared e-book and print book usage and investigated the constraints of the acceptance and the use of e-books. A survey questionnaire was used to collect data on the e-book adopters, to provide general contextual e-book data on use and behaviour of researchers, lecturers and librarians using a theoretical framework based on a modification of the Unified Theory of Acceptance and Use of Technology (UTAUT). All the members of a project group that comprised of faculty members of the university were invited to participate in the survey. The findings suggested new factors influencing user preferences of e-books and revealed the reasons why e-books may not replace print books any time soon in Nigeria.  The study found that the factors such as faculty member's position, e-book availability, attitude, behavioural intention, relative advantages and peer pressure, influenced the acceptance and use of e-books by the members of faculty in Nigeria. The study recommended policy interventions, innovative practices of e-book adoption and use and extension of theory on e-books' adoption.
Keywords: E-books, acceptance and use of technology, academics, Nigeria, models of technology adoption.
References
Alan, K. 2000. The Rocket eBook. Library Quarterly,70 (3). Retrieved 4 February 2012 from http://web5.infotrac.galegroup.com/itw/infomark/903/446/16948757w5/purl=r/
Anuradha, K. Usha, H. 2006. Use of e-books in an academic and research environment: A case study from the Indian Institute of Science, Program: electronic library and information systems, 40 (1), 48 – 62
Askey, D. 2010. E-books: The Eternal Next Big Thing. Information Standards Quality. 22 (1)
Bailey, T. 2006. Electronic book usage at a master's level I university: A longitudinal study. Journal of Academic Librarianship, 32 (1), 52-59.
Brown, G. 2001. Beyond print: Reading digitally. Library Hi Tech, 19 (4), 390-399.
Carlock, D. and Perry, A. 2008. Exploring faculty experiences with e-books: A focus group Library Hi Tech, 26 (2), 244–25.
Christianson, M., & Aucoin, M. 2005. Ebooks or print: Which are used? Library Collections Acquisitions & Technical Services, 29, 71–81.
CIBER, 2008. Information behaviour of the researcher of the Future ,7 Centre for Information Behaviour and the Evaluation of Research.
Connaway, C. Wicht, H. 2007. What happened to the e-book revolution? The gradual integration of e-books into academic libraries. Journal of Electronic Publishing, 10 (3), 211-216.
Croft, R., and Bedi, S. 2004. E-Books for a distributed learning university: The Royal Roads University case. Journal of Library Administration, 41, 113-138.
Gbaje, E. 2007. Implementing a national virtual library for higher institutions in Nigeria. LIBRES: Library and Information Science Research Electronic Journal, 17 (2), 1-15.
Gibbons, S. 2001.  netLibrary eBook Usage at the University of Rochester Libraries.
Gregory, C. 2008. But I want a real book: An investigation of undergraduates' usage and attitudes toward electronic books. Reference and User Services Quarterly, 47 (3), 266–273.
Heeks, R. 2008. ICT4D 2.0: The next phase of applying ICT for international development. Computer, 41(6), 26-33.
Hillesund, T. 2001. Will E-books Change the World? First Monday 6 (10), retrieved 11 May 2011 from http://www.firstmonday. org/issues/issue6_10/hillesund/
Hodgkin, A. 2003. Forget the E-book, it's the E-library that Matters, Information World Review 196: 13.
Ismail, R. and Zainab, A. 2005. The Pattern Of E-Book Use Amongst Undergraduates In Malaysia: A Case Of To Know Is To Use. Malaysian Journal of Library & Information Science, 10 (2), 1-23.
JISC, 2008. 7 JISC National E-Books Observatory Project, Results of First User Survey 7 Joint Information Systems Committee.
 Jones, P. 2009. Turning the Page: Learning about the future of Books from Students today. University of Toronto Libraries Student and Scholar Experience of eBooks.  Summary Report (Unpublished).
Kämäräinen, P., Attwell, G. and Brown, B. 2002. Transformation of learning in education and training. Cedefop Reference series; 37, Luxembourg: Office for Official Publications of the European Communities. Retrieved 22 March 2011 from http://www.cedefop.europa.eu/EN/Files/3025_en.pdf/
Keengwe, J., Kidd, T. and Kyei-Blankson, L. 2009. Faculty and technology: Implications for faculty training and technology leadership. Journal of Science Education and Technology, 18(1), 23-28.
Kijsanayotin, B., Pannarunothai, S. and Speedie, S. 2009. Factors influencing health information technology adoption in Thailand's community health centers: Applying the UTAUT model. International Journal of Medical Informatics, 7 (8), 404-416.
Lanham, R. 1993. The electronic word: Democracy, technology and the arts Chicago: U. of Chicago Press.
Levine-Clark, M. 2006. Electronic book usage: A survey at the University of Denver portal: Libraries and the Academy, 6, 285-299.
Levine-Clark, M. 2007. Electronic books and the humanities: A survey at the University of Denver.
Levy, S. 2000. It's time to turn the last page. Newsweek 1 January: 84-26.
Littman, J. and Connaway, L. 2004. A circulation analysis of print books and e-books in an academic research library. Library Resources & Technical Services 48 (4), 256-262.
Massaro, B. 2010. Insights into awareness. book I: A collection of articles. Free Awareness. Retrieved 22 March 2012 from www.free-awareness.com
McKiel, A. 2008. 2008 Global Student E-book Survey sponsored by ebrary, June 2008. Retrieved 12 January 2011 from http://www.ebrary.com/corp/collateral/en/Survey/ebrary_student_survey_2008.pdf
McKiel, A. 2007. Ebrary's global ebook survey. Retrieved 2 February 2010 from http://www.ebrary.com/corp/collateral/en/Survey/ebrary_eBook_survey_2007.pdf
McKnight, C. and Dearnley, J.  2003. Electronic book use in a public library. Journal of Librarianship and Information Science, 35 (4), 235-242.
Olasina, G. (2011). The Use of Web 2.0 Tools and Social networking Sites by Librarians, Information Professionals and other professionals in Workplaces in Nigeria, PNLA Quarterly, USA 75 (3), 11-43. Retrieved 09 February 2011 from http://www.pnla.org/quarterly/Spring2011/PNLAQ75-3Spring2011.pdf
Nardi, B. Schiano, D. and Gumbrecht, M. 2004. Blogging as social activity, or, would you let 900 million people read your diary? In Proceedings of the 2004 ACM conference on Computer supported cooperative work (pp. 222-231). Retrieved 12 June 2011 http://dx.doi.org/10.1145/1031607.1031643/
Nicholas, D., Rowlands, I., Jamali, H. 2010. E-textbook use, information seeking behaviour and its impact: Case study business and management. Journal of Information Science 36 (263) of Denver. Collection Building, 26, 7-14.
Publishers Communication Group, 2008. E-Books in 2008: Are Librarians and Publishers on the Same Page? 7 Publishers Communication Group.
Rao, S. 2003. Electronic books: a review and evaluation. Library Hi Tech, 21 (1), 85-93.
Rowlands, I. and Nicholas, D. 2008. Understanding information behaviour: how do students and faculty find books? Journal of Academic Librarianship, 3 4 (1), 3‐15. 2008 Global Student Ebook Survey             
Rowlands, I., Nicholas, D, Jamali, H. and Huntington, P. 2007. What do faculty and students really think about ebooks? London: CIBER, University College London.
Shelburne, W. 2009. E-book usage in an academic library: User attitudes and behaviors Library Collections, Acquisitions, & Technical Services 33: 59–72.
Shelburne, W. 2005. E-book usage in an academic library: User attitudes and behaviors. 33 (2/3), 59-72.
Sprague N., Hunter B. 2008. Assessing e-books: Taking a closer look at e-book statistics Library Collections, Acquisition and Technical Services, 32 (3-4), 150-157.
Springer 2007. eBooks—Costs and Benefits to Academic and Research Libraries 7
Springer 2008. eBooks—Costs and Benefits to Academic and Research Libraries 7
Springer e-Book Pilot Project, 2011. UC Libraries Academic e-Book Usage Survey. University of California Libraries. Retrieved 22 March 2012 from http://www.cdlib.org/services/uxdesign/docs/2011/academic_ebook_usage_survey.pdf/
Timothy, P. 2006. Electronic Book Usage at a Master's Level 1 University: A Longitudinal. The Journal of Academic Librarianship 32 (1), 55.
Usluel, Y., Askar, P. and Bas, T. 2008. A structural equation model for ICT usage in higher education. Educational Technology & Society, 11(2), 262-273.
Vidana, M. 2003. E-books in public libraries. Libraries and Information Update. Retrieved 22 March 2012 from http://www.cilip.org.uk/update/issues/mayo3/article4may.html/
Wilson, R. 2001. Evolution of Portable Electronic Books Ariadne (25). Retrieved 23 March 2011 from http://www.ariadne.ac.uk/issue29/wilson
Womack, H., Jones, J. and Roos, D. 1990.  The machine that changed the world. New
York: Macmillan, 1990.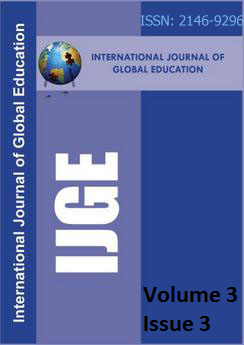 Downloads
License
Copyright (c) 2014 International Journal of Global Education (IJGE) ISSN: 2146-9296
This work is licensed under a Creative Commons Attribution 4.0 International License.