THE ROLE OF LANGUAGE IN EDUCATION, THE SELECTION OF LANGUAGE OF INSTRUCTION AND THE PLACE OF AFAN OROMO IN ETHIOPIAN EDUCATIONAL SYSTEM
Abstract
The issue of education raises the role of language in the educational process. This is because it is through language that education gets life and it is through education that language develops In other words, in talking about education, it is inevitable that the question of language should be arise, since it is mainly through language that knowledge is shared. Besides, it is said that the language of instruction is at the heart of any learning process, since effective teaching and learning depend on clear and understandable communication. In connection to this, it is argued that the selection of an appropriate medium of instruction is one of the most significant factors that contribute to the effectiveness of any educational system.  However, selecting the language of instruction appears to be problematic and difficult. The main purposes of this article are to describe the role of language in education and to assess how the language of instruction is selected in monolingual and multilingual contexts. It will also explore the selection of language of instruction in Ethiopian context and the place of Afan Oromo in Ethiopian Education System.
Key Words: Afan Oromo, Education, Ethiopia, Learning, Language of Instruction, Mother Tongue
References
Aggarwal,J.C. (1996). Theory and Principles of Education: Philosophical and Sociological            Bases of Education. New Delhi: Vikas Publishing House Pvt.Ltd.
Ali, M. and Zaborski, A. (1990).  Handbook of  the Oromo Language. Wroclaw: Maria
                Kowalska Stanis.
Alidou et al., (2006). Optimizing learning and education in Africa-the language factor. A Stock-      taking research on mother tongue and bilingual education in Sub-Saharan Africa.          Libreville:               Association for the Development of Education in Africa (ADEA).
Amanuel Raga1 and Samuel Adola (2012) "Homonymy as a barrier to mutual intelligibility             among speakers of various dialects of Afan Oromo" on Journal of Language and Culture: Vol. 3(2), pp. 32-43.
Bamgbose, A. (1991). Language and the Nation: The language question in Sub-Saharan Africa. Edinburgh:  Edinburgh University Press.
Bender, M.L. (1976). The non-Semetic languages of Ethiopia. Michigan State University: African Studies Center. 
Bender, M.L., Mulugeta, E. and Stinson,D.L. (1976). Two Cushitic Languages. In Bender, M.L., Bowen,J.D, Cooper, R.L. and Ferguson, C. A.(Eds). Languages in Ethiopia. London: Oxford University Press.
Bender, M.L., Bowen,J.D, Cooper, R.L. and Ferguson, C. A.(Eds).(1976). Languages in Ethiopia. London: Oxford University Press.
Derebssa Dhufera (2006). Issues in the implementation of Ethiopian school curriculum.
        Robe: MadaWalabu University. 
Dereje Terefe (2010). The implementation of a multilingual education policy in Ethiopia: The case of Afan Oromo in primary schools of Oromia Regional State (Unpublished  PhD  Dissertation). University of   Jyväskyläe: Finland
FDRE (1995). Federal Constitution. Addis Ababa. Ethiopia
Feyisa Demie (1996). Historical challenges in the development of the Oromo Language and some agenda for future research. Journal of Oromo Studies, 3(1 and 2), 18-27.
Finch,G.(1998). How to study Linguistics. New York: Pal grave Publishers Ltd.
Garcia,O.(1998). Bilingual education. In Coulmas, F.(Ed). (1998). Handbook of Sociolinguistics. Retrieved from http://www.blackwellreference.com/subscriber/tocnode?
Gfeller, E. (1999). Language equality: Multilingual issues in Education. Hawassa: Ethiopia
Heugh, et al. (2007). A study on the medium of instruction in primary schools in Ethiopia. Addis    Ababa: Ministry of Education
Kebede Hordofa (2009). Towards genetic classification of the Afan Oromo dialects (Unpublished PhD Dissertation). The University of Oslo: Sweden. 
Kioko et al., (2008). Language and education in Africa: Answering the questions. Nairobi: Multilingual Education Network of Eastern Africa.
McNab,C. (1989). Language policy and language practice: Implementation dilemmas in Ethiopian education. University of Stockholm.
Mekonnen Alemu (2009). The implication of Use of Mother Tongue Versus English as   Language of Instruction for Academic Achievement in Ethiopia.  In Brock-Utne, B. and Skattum,I.(Eds). (2009). Language Education in Africa: a Comparative and              Transdisciplinary Analysis. UK Cambridge University Press.  
Mesthrie, R. and Leap,W. L. (2009).  Sociolinguistics and education. In Mesthrie, R., Swann, J.,    Deumert, A.  and Leap, W. L.(Eds). (2009).  Introducing Sociolinguistics (2nd                 ed)(344-370). Edinburgh:  Edinburgh University Press.
MOE (1994). Ethiopian educational and training policy. Addis Ababa: St. George Printing Press.
Romaine, S.(2000). Language in society: An introduction to Sociolinguistics (2nd ed). Oxford: OUP.
Shimelis Gizaw (2006). Language Policy and Language Education in Ethiopia Context. In              Proceedings of the Conference on Teacher Education for Sustainable Development in             Ethiopia.  Bishoftu: Ethiopian Management Institute,            
Smith, L. (2008). The Politics of contemporary language policy in Ethiopia. Journal of Developing Societies, 24(2), 207-243. Retrieved from: http://jds.sagepub.com/content/24/2/207. 
Tilahun Gamta (1993). Qube Afan Oromo: Reasons for choosing the Latin script for developing an Oromo alphabet. Journal of Oromo Studies,1(1),36-41.
UNESCO (1953). The use of the vernacular languages in education: Monographs on foundations of education.  Paris: UNESCO.
UNESCO (2003). Education in a Multilingual World and Mother Tongue Education. France: UNESCO.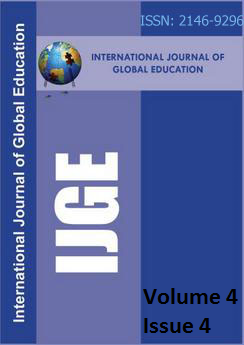 Downloads
License
Copyright (c) 2015 International Journal of Global Education (IJGE) ISSN: 2146-9296
This work is licensed under a Creative Commons Attribution 4.0 International License.