ANTECEDENTS OF INTERNET ADDICTION AMONG COLLEGE STUDENTS IN INDIA
Abstract
The advent of the internet has dramatically changed our life, positively as well as negatively. Internet addiction is one such negative consequence of it. The present study aims at exploring how personality, loneliness, and affect (positive and negative) predict internet addiction among Indian students. Four psychological tools were used to measure the variables taken in the study. Internet addiction was measured by Online Cognition Scale (OCS), Personality was measured by Eysenck's MPI (Short), Loneliness was measured by UCLA Loneliness Scale (UCLA-LS), and affect was measured by PANAS. Cronbach's alpha on the current sample was: OCS (0.88), UCLA-LS (0.79), PANAS (Negative Affect 0.68, Positive Affect 0.77), and MPI (Extraversion 0.33, Neuroticism 0.58). For this purpose data were collected from a sample size of 205 participants, from undergraduate and postgraduate students. They are between the age group of 17 to 25 years, comprising 157 Females and 48 Males. Their mean age is 19.76 years. Multiple correlation indicate a significant correlation (0.34, p<0.001) among all the variables chosen in the study and all the predictors explained significant variance in the internet addiction.  Loneliness and Negative Affect emerged as the significant predictors of internet addiction in the current sample.
Keywords: Internet Addiction, Neuroticism, Extraversion, Loneliness, Negative Affect, Positive Affect.
REFERENCES
Akin, A., & Iskender, M. (2011). Internet Addiction and Depression, Anxiety and Stress, International Online Journal of Educational Sciences, 3(1), 138-148
American Psychiatric Association (2000). Diagnostic and Statistical Manual of Mental Disorders, Fourth Edition, Text Revision. Washington: American Psychiatric Association.
Beard, K. W. (2005). Internet addiction: A review of current assessment techniques and potential assessment questions. CyberPsychology and Behavior, 8(1), 7-14.
Beard, K.W. & Wolf, E. M. (2001). "Modification in the proposed diagnostic criteria for Internet addiction," Cyberpsychology and Behavior, 4 (3), 377–383.
Booth, R. (2000). Loneliness as a component of psychiatric disorders. Medscape General Medicine, 2(2), 1-7. Retrieved from http://www.medscape.com/viewarticle/430545 on 15 January, 2013.
Burger, J. (1997). Personality (4th ed.). Pacific Grove, CA: Brooks/Cole.
Cao F, & Su L. (2007). Internet addiction among Chinese adolescents: prevalence and psychological features. Child Care Health and Development, 33:275-281.
Clark, L.A., Watson, D., & Leeka, J. (1989). Diurnal variation in the positive affects. Motivation and Emotion, 13(3), 205–234.
comScore (2009). Turkey has 7th Largest and Most Engaged Online Audience in Europe, retrieved from http://www.comscore.com/Insights/Press_Releases/2009/5/Turkey_has_Seventh_Largest_Online_Audience_in_Europe on 12 Sept 2013.
Davis, R.A., Flett, G.L., & Besser, A. (2002). Validation of a New Scale for Measuring Problematic Internet Use: Implications for Pre-Employment Screening. Cyberpsychology and Behavior. 5(4), 331-345.
Dong, G., Wang, J., Yang, X. & Zhou, H. (2012). Risk personality traits of Internet addiction: A longitudinal study of Internet-addicted Chinese university students. Asia-Pacific Psychiatry.
Eysenck, H.J. (1959). Manual of the Maudsley Personality Inventory. London: University of London Press.
Hamburger, Y. A., & Ben-Artzi, E. (2000). The relationship between Extraversion and Neuroticism and the different uses of the Internet. Computers in Human Behavior, 16(4), 441-449.
Han, J. Y., Shaw, B. R., Hawkins, R. P., Pingree, S., McTavish, F., & Gustafson, D. H., (2008). "Expressing positive emotions within online support groups by women with breast cancer", Journal of Health Psychology, 13(8), 1102-1007.
Hartney, E. (2012). How to Prevent Addiction in Your Kids-Prevent Addiction With Effective Parenting. Retrieved from http://addictions.about.com/od/familyrelationships/tp/parent_discipline.htm on 20 Oct 2013.
Horowitz, L., & de Sales French, R. (1979). Interpersonal problems of people who describe themselves as lonely. Journal of Consulting and Clinical Psychology, 47(4), 762–764.
I-Cube (2009). I-Cube 2009 Internet in India. Report published by Internet and Mobile Association of India (IAMAI). Retrieved from www.iamai.in/Upload/Research/icube_new_curve_lowres_39.pdf on 14 Aug, 2012.
Internet World Stats (2013). Asia Marketing Research, Internet Usage, Population Statistics and Facebook Information. Retrieved from http://www.internetworldstats.com/asia.htm#in on 24 Jan, 2013.
Kiesler, Sara., Kraut, Robert., Cummings, Jonathon., Boneva, Bonka., Helgeson, Vicki., & Crawford, Anne,. (2002). Internet Evolution and Social impact, IT & Society, Vol.1, Issue 1, Stanford University.
Kraut, R., Patterson, M., Lundmark, V., Kiesler, S., Mukopadhyay, T., & Scherlis, W. (1998). Internet paradox. A social technology that reduces social involvement and psychological well-being? American Psychologist, 53(9), 1017-1031.
Lei, L., & Wu, Y. (2007). Adolescents' paternal attachment and Internet use. CyberPsychology and Behavior, 10(5), 633-639.
Lelkes, Orsolya (2012). Happier and less isolated: internet use in old age, Munich Personal RePEc Archive (MPRA), MPRA Paper No. 42546, posted 11.European Centre, Vienna. Retrieved from http://mpra.ub.uni-muenchen.de/42546/2/MPRA_paper_42546.pdf on 15 March, 2013.
Montgomery, K., Gottlieb–Robles, B., & Larson, G. O. (2004). Youth as E–Citizens: Engaging the digital generation. Retrieved from http://www.civicyouth.org/PopUps/YouthasECitizens.pdf on 13 Aug 2013.
Nalwa, K., & Anand, A. (2003). Internet addiction in students: A cause of concern. Cyberpsychology and Behavior, 6(6), 653–656.
Peter, J., Valkenburg, P., & Schouten, A. (2005). Developing a model of adolescent friendship formation on the Internet. Cyberpsychology & Behavior, 8(5), 423-430. doi:10.1089/cpb.2005.8.423
Russell, D. W. (1996). UCLA Loneliness Scale (Version 3): Reliability, validity, and factor structure. Journal of Personality Assessment, 66(1), 20-40.
Russell, D., Peplau, L., & Cutrona, C. (1980). The revised UCLA Loneliness Scale: Concurrent and discriminant validity. Journal of Personality and Social Psychology, 39(3), 472–480.
Salisbury, Jared (2010). Internet Overuse and Personality: A Look at the Big Five, BIS/BAS, Loneliness, & Boredom. Retrieved from http://mmss.wcas.northwestern.edu/thesis/articles/get/719/Salisbury2010-0.pdf on 22 Jan 2013.
Solano, C., & Koester, N. (1989). Loneliness and communications problems: subjective anxiety or objective skills? Personality and Social Psychology Bulletin, 15(1), 126–133.
Sum, S., Mathews, M., Hughes, I., & Campbell, A. (2007). "Participation of older adults in cyberspace: social inclusion and wellbeing", Paper presented at the 4th National Conference on Depression in the Elderly; Successful Aging: Countering Depression in Old Age, Sydney, Australia.
Tahiroglu, A. Y., Celik, G. G., Uzel, M., Ozcan, N., & Avci, A. (2008). Internet use among Turkish adolescents.  CyberPsychology & Behavior, 11(5), 537–543.
Turkle, S. (2011). Alone together:  Why We Expect More from Technology and Less from Each Other, Basic Books; First Trade Paper Edition.
Vitkus, J., & Horowitz, L. (1987). Poor social performance of lonely people: lacking a skill or adopting role? Journal of Personality and Social Psychology, 52(6), 1266–1273.
Watson, D., & Clark, L. A. (1984). Negative affectivity: The disposition to experience negative aversive emotional states. Psychological Bulletin, 96(3), 465–490.
Watson, D., Clark, L. A., & Tellegen, A. (1988). Development and validation of brief measures of positive and negative affect: The PANAS scales. Journal of Personality and Social Psychology, 54(6), 1063–1070.
Whang, S., Lee, S., & Chang, G. (2003). Internet over-users' psychological profiles: a behavior sampling analysis on Internet addiction. Cyberpsychology and Behavior; 6:143–150.
Williams, J., & Solano, C. (1983). The social reality of feeling lonely: friendship and reciprocation. Personality and Social Psychology Bulletin, 9(2), 237–242.
Yang, C. K., Choe, B. M., Baity, M., Lee, J. H. & Cho, J. S. (2005) SCL-90-R and 16PF profiles of senior high school students with excessive internet use. Canadian Journal of Psychiatry, 50(7), 407–414.
Young K. S. (1996). Internet Addiction: The Emergence of a New Clinical Disorder. Cyberpsychology and  Behavior, 1(3), 237-44.
Young, K. S., (1998). Caught in the net: How to recognize the signs of internet addiction and a winning strategy for recovery, New York: Johnson Wiley & Sons, Inc.
Young, K., & Rodgers, R. (1998). The relationship between depression and Internet addiction. CyberPsychology and Behavior, 1(1), 25-28.
Zamani, B.E., Abedini, Y, & Kheradmand, A. (2011). Internet Addiction Based on Personality Characteristics of High School Students in Kerman, Iran, Addict & Health; 3(3-4), 85-91.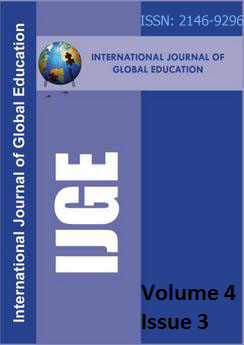 Downloads
License
Copyright (c) 2015 International Journal of Global Education (IJGE) ISSN: 2146-9296
This work is licensed under a Creative Commons Attribution 4.0 International License.