THE DEVELOPMENT OF GLOBAL COMPETENCIES AND GLOBAL MINDEDNESS THROUGH GLOBAL EDUCATION EXPERIENCES
Abstract
The development of the competencies, skills, and beliefs that prepare learners for success in the globalized world is a desired outcome for educational organizations. Global education can foster the development of these competencies, skills, and beliefs. The study reported within this article focused on the global education experiences of Primary Years Program International Baccalaureate students as they collaborated to address a global issue. Through engagement in global education, the primary students developed global competencies. Teachers reported changes in their own and their students' global mindedness beliefs, however, the quantitative findings did not show evidence of a change in student global mindedness.
Keywords: global competencies, global mindedness, global education
REFERENCES
Carano, K. (2010).  Through the lens of a global educator: Examining personal perceptions regarding the construction of world-mindedness.  Graduate thesis and dissertation. University of South Florida, Scholar Commons.
CCSSO, (2011). Global competence matrices. Washington, DC: Council of Chief State School Officers.  Retrieved from http://www.edsteps.org.
Center for Global Education (2015). The Center for Global Education: An International Resource Center.  Retrieved from: http://www.globaled.us.
Cook, L. (2016). International mindedness through global education. Article in review.
Cook, L. (2016). International mindedness and global education: A mixed methods exploration of global education among International Baccalaureate schools of the Americas (doctoral dissertation). Texas Tech University, Lubbock, Texas.
Cook, L., Bell, M., Nugent, J., & Smith, W. (2016). Global collaboration enhances technology literacy. Technology and Engineering Teacher, 75(5).
Creswell, J. (2006).  Qualitative inquiry and research design: Choosing among five approaches.  Thousand Oaks, CA: Sage.
Creswell, J. W. & Plano Clark, V. L. (2011).  Designing and conducting mixed methods research.  Thousand Oaks, CA: Sage Publications.
Cui, Qi (2013).  Global-mindedness and intercultural competence: A quantitative study of pre-service teachers.  A dissertation presented to the college of graduate and professional studies department of curriculum, instruction, and media technology, Indiana State University.
Cultural Intelligence Center (2005).  The cultural intelligence scale. Retrieved from http://linnvandyne.com/papers/The%20CQS.pdf
Deardorff, D. K. (2004). The identification and assessment of intercultural compe- tence as a student outcome of international education at institutions of higher education in the United States. Unpublished dissertation, North Carolina State University, Raleigh.
Deardorff (2006).  Identification and assessment of intercultural competence as a student outcome of internationalization.  Journal of Studies in International Education, 10, 241-266.
Erlandson, D., Harris, E., Skipper, B., & Allen, S., (1993).  Doing naturalistic inquiry: A guide to methods.  Newbury Park, CA: Sage.
Global Nomads Group (2015).  What we do.  Retrieved from http://gng.org/home.
        Hayden, M. C., Rancic, B. A., & Thompson, J. J. (2000).  Being international: student and teacher perceptions from international schools.  Oxford Review of Education, 26 (1), 107-123.
Hett, E. J. (1993).  The development of an instrument to measure global-mindedness  (Doctoral dissertation, University of San Diego, 1993).  Dissertation Abstracts International, 54, 3724.
Hunter, B., White, G. P. &Godbey, G. (2006).  What does it mean to be globally competent?  Journal of Studies in International Education, 10(3), 267-285.
Kehl, K. & Morris, J. (2008).  Differences in global mindedness between short-term and long-term study abroad participants at selected private universities.  Frontiers: The Interdisciplinary Journal of Study Abroad, 15, 67-80.
Li, Y. (2013).  Cultivating student global competence: A pilot experimental study. Decision Sciences Journal of Innovative Education, 11(1), 125-143.
Lindsay, J. & Davis, V. (2013).  Flattening classrooms, engaging minds: Move to global
collaboration one step at a time. Upper Saddle River, NJ: Pearson Education.
Linstone, H. A., &Turoff, M. (1975). The Delphi method: Techniques and appli- cations. London: Addison-Wesley.
Mansilla, V. B. & Jackson, T. (2013). Educating for global competence: Preparing our youth to engage the world.  CCSSO EdSteps Initiative and Asia Society Partnership for Global Learning.  Retrieved from: http://www.ccsso.org
Mortenson, D. (2015).  Globally competent teaching.  Presentation given through EdTalks,  Achieve Minneapolis, 2015.
NEA (2010). Global competence is a 21st century imperative. NEA Education Policy and Practice Department. Center for Great Public Schools.
NEA (2013-2014). NEA strategic plan and budget: Great public schools for every student. National Education Association.
Ramler, S. (1991).  Global education for the 21st century. Educational Leadership, 48(7), 44-46.
Reimers, F. (2009).  Leading for global competency.  Educational Leadership, 67(1).
Ricks, J. R. (2014). A case study investigating the impact of a blended international partnership on perceptions of learning and global mindedness in a North Carolina high school. A dissertation presented in partial fulfillment of the requirements for the degree of Doctor of Education, Liberty University.
Robertson, R. (1997).  Social theory, cultural relativity and the problem of globality. In Culture, Globalization and the World System: Contemporary Conditions for the Representation of Identity.  Minneapolis, MN: University of Minnesota Press.
UNESCO (2016). Global Citizenship Education. Retrieved from http://en.unesco.org/gced/approach.
Wagner, T. (2008). The Global Achievement Gap: Why Even Our Best Schools Don't Teach The New Survival Skills Our Children Need – And What We Can Do About It.  New York, NY: Basic Books.
World Savvy (2015). World savvy.  Retrieved from http://www.worldsavvy.org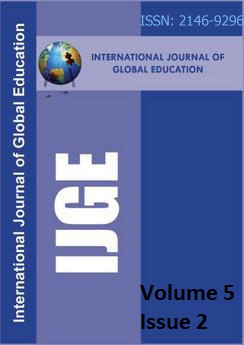 Downloads
License
Copyright (c) 2016 International Journal of Global Education (IJGE) ISSN: 2146-9296
This work is licensed under a Creative Commons Attribution 4.0 International License.