About the Journal
International  Journal of Global Education (IJGE)
Period : 2 Issue / Year (one issue in June and one in December)
ISSN    : 2146-9296
Indexing & Abstracting   

Turkish Education Index (TEI)
ASOS Index
Google Scholar

The International Journal of Global Education (IJGE) is a peer-reviewed, professional scientific journal. It is an international online journal in the field of globalization in education. It is initially focuses on the effects of the globalization on regional and national educational systems and pedagogical practices.
This journal is published biannually (one issue in June and one in December). The article is to be submitted in English. IJGE publishes research studies employing a variety of qualitative and/or quantitative methods and approaches in the field of education.
Current Issue
Vol. 7 No. 1 (2022): June 2022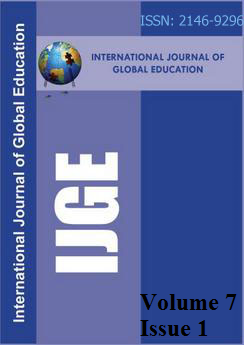 The countries of the authors contributed to this issue (in alphabetical order):
Jordan, Nigeria, and Turkey.
View All Issues