THE RELATIONSHIP BETWEEN INTERNET ADDICTION AND PSYCHOLOGICAL SYMPTOMS
Abstract
The aim of this study is to reveal the relationship between internet addiction and psychological symptoms among university students. The research was conducted among university students in North Cyprus. The sample for the research consists of 36.5% (n=46) female, 63.5% (n=80) male, 126 university students who were selected according to the criterion sampling method. "Brief Symptom Inventory (BSI)" adapted by Şahin and Durak (1994), the Cronbach's alpha reliability coefficient of .96, "Internet Addiction Scale (IAS)" adapted by Bayraktar (2001) with a Cronbach alpha reliability coefficient of .90 and Biographic-Demographic Information Form were used for collecting data. Percentage documentation average, ANOVA and Pearson Moment's correlation tests were used in data analysis. The statistical significance level was accepted as .05 in the study. The results of this study show that there is a significant correlation between internet addiction and psychological symptoms as somatization, obsessive-compulsive, interpersonal sensitivity, depression, anxiety, hostility, phobic anxiety, paranoid ideation and psychoticism.
Keywords: Internet, internet addiction, psychological symptoms.
REFERENCES
Arısoy, Ö. (2009). İnternet bağımlılığı ve tedavisi. Psikiyatride Güncel Yaklaşımlar, 1(1), 55-67.
Arnas, Y. A. (2005). 3-18 yaş grubu çocuk ve gençlerin interaktif iletişim araçlarını kullanma alışkanlıklarının değerlendirilmesi. The Turkish Online Journal of Educational Tecnology, 4(4), 59-66.
Aslanbay, M. (2006). A compulsive consumption ınternet use addiction tendency: High school the case of turkish students.(Unpublished Master's Thesis). University of Marmara/Institute of Social Sciences, İstanbul.
Balcı, Ş., & Gülnar, B. (2009). Üniversite öğrencileri arasında internet bağımlılığı ve internet bağımlılarının profili. Journal of Selçuk Communication, 6(1), 5-22.
Balta, Ö. Ç., & Horzum, M. B. (2008). The factors that affect ınternet addiction of students in a web based learning environment. Journal of Faculty of Educational Science, 41(1), 187-205.  
Block, J. J. (2008). Issues for DSM-V: Internet addiction. Am J Psychiatry, 165(3), 306-307.
Demir, E. (2006). Aile yaşamına ilişkin konularda internet kullanımının etkisinin belirlenmesi. (Unpublished Master's Thesis). University of Ankara/Institute of Sciences, Ankara.
Karasar, N. (2009). Bilimsel araştırma yöntemi. Ankara: Nobel Yayın Dağıtım.
Kelleci, M., Güler, N., Sezer, H., & Gölbaşı Z. (2009). Lise öğrencilerinde internet kullanma süresinin cinsiyet ve psikiyatrik belirtiler ile ilişkisi. Taf Preventive Medicine Bulletin, 8(3), 223-230.
Kim, J., & Haridakis, P. M. (2009). The role of ınternet user characteristics and motives in explaining three dimensions of ınternet addiction. Journal of Computer-Mediated Communication, 14, 988-1015.
Koç, M. (2011). Internet addiction and psychopatology. TOJET, 10(1), 143-148.
Orzack, H. M. (1998). Computer addiction: What is it? Psychiatric Times, 5(8), 2-3.
Öztürk, Ö., Odabaşıoğlu, G., Eraslan, D., Genç, Y. & Kalyoncu, Ö. A. (2007). İnternet bağımlılığı: Kliniği ve tedavisi. Journal of Dependence, 8(1), 36-41.
Savaşır, I., Şahin, N. H. (1997). Bilişsel-davranışçı terapilerde değerlendirme:Sık kullanılan ölçekler. Ankara: Türk Psikologlar Derneği Yayınları.
Stallings W., (2004). Computer Networking with Internet Protocols and Technology. India:  Prentice Hall.
Yen, J., Ko, C., Yen, C., Chen, S., Chung, W., & Chen, C. (2008). Psychiatric symptoms in adolescents with internet addiction: Comparison with substance use. Psychiatry and Clinical Neurosciences, 62, 9-16. 
Young, K. S., & Rodgers, C. R. (1998). The relationship between depression and internet addiction. CyberPsychology & Behavior,1(1), 25-28.
Young, K. S. (1999). Innovations in clinical practice. USA: Professional Resource Exchange Inc.
Young, K. S., Pistner, M., O'Mara, J., & Buchanan, J. (2000). The mental health concern for the new millenium. CyberPsychology & Behavior, 3(5), 475-479.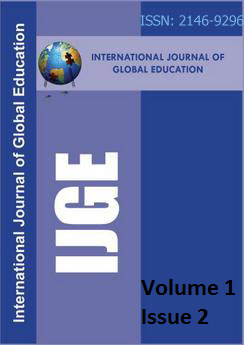 Downloads
License
Copyright (c) 2012 International Journal of Global Education (IJGE) ISSN: 2146-9296
This work is licensed under a Creative Commons Attribution 4.0 International License.