A COMPARATIVE STUDY OF SOCIAL INFLUENCES IN THE TRANSITION OF STUDENTS OF LOWER- AND UPPER SECONDARY SCHOOLS BETWEEN EDUCATIONAL LEVELS AND TO THE LABOUR MARKET
Abstract
The paper deals with the transition of Czech students of lower secondary school (ISCED 2A) and vocationally oriented upper secondary schools (ISCED 3A and 3C) between educational levels and to the labour market. The theoretical introduction describes the specifics of career decision‑making of Czech pupils and synthesizes important empirical findings on social influences on this decision. The core lies in a survey designed by the National Institute of Education, School Counselling Centre and Centre for Further Education of Teachers. The instrument of data collection was questionnaires for students of final years of lower secondary and upper secondary schools. Data collection took place in 2011 at 40 lower secondary (n=779) and 20 vocationally oriented upper secondary schools (n=442). The paper compares the views of these groups of respondents on student's autonomy in the choice of further education and occupation, and social influences on students' career decision-making.
Keywords: Students, Educational Level, Labour Market
References
Altman, J. H. (1997). Career development in the context of family experiences. In H. Farmer (Ed.), Diversity and women's career development : From adolescence to adulthood (pp. 229-242). Thousand Oaks: Sage.
Anderson, S., et al. (2004). 17 in 2003 – Scotland's young people: Findings from the Scottish school leavers survey [On-line]. Available: http://dera.ioe.ac.uk/5617/1/0033791.pdf
Bates, I. (1990). The politics of career education and guidance. British Journal of Guidance and Counselling, 18(1), 66-83.
Beinke, L. (2006). Der Einfluss von Peer Groups auf das Berufswahlverhalten von Jugendlichen. In N.Bley, & M. Rullmann (Eds.), Übergang Schule und Beruf (pp. 249-265). Recklinghausen: Wissenswertes für Lehrkäfte und Eltern.
Czech Statistical Office. (2011). Statistická ročenka České republiky: 2011. Praha: Český statistický úřad.
Forster, P. (1992). Whose choice is it anyway? Managing Schools Today, 1(6), 36-37.
Foskett, N. H., & Hesketh, A. J. (1997). Constructing choice in contiguous and parallel markets: Institutional and school leavers' responses to the new post-16 marketplace. Oxford Review of Education, 23(3), 299-319.
Gati, I., Krausz, M., & Osipow, S. H. (1996). A taxonomy of difficulties in career decision making. Journal of Counseling Psychology, 43(4), 510-526.
Görtz-Brose, K., & Hüser, H. (2006). Zum Einfluss von Eltern auf das Berufswahlverhalten von Jugendlichen. In N.Bley, & M. Rullmann (Eds.), Übergang Schule und Beruf: Aus der Praxis für die Praxis (pp. 277-294). Recklinghausen: Wissenswertes für Lehrkäfte und Eltern.
Harris, S. A. (1992). Career on the margins? The position of career teachers in schools'. British Journal of Sociology of Education, 13(2), 163-176.
Hirschi, A., & Läge, D. (2007). The relation of secondary student's career choice readiness to a six-phase model of career decision-making. Journal of Career Development, 34(2), 164-191.
Hlaďo, P. (2010). Vliv sociálního okolí na kariérové rozhodování žáků při přechodu do vyššího sekundárního vzdělávání. Pedagogická orientace, 20(3), 66-81.
Holland, J. L.(1997). Making vocational choices. A theory of vocational personalities and work environments. Odessa, FL: Psychological Assessment Resources.
Katrňák, T. (2004). Odsouzeni k manuální práci: vzdělanostní reprodukce v dělnické rodině. Praha: Sociologické nakladatelství.
Kleňhová, M., & Vojtěch, J. (2006). Přechod absolventů středních škol do terciárního vzdělávání. Praha: Národní ústav odborného vzdělávání.
Kučera, M. (2005). Profi-volba v hnědé třídě. In Profi-volba z deváté třídy (pp. 25-49). Prague: Charles University.
Langmeier, J., & Krejčířová, D. (2006). Vývojová psychologie. Praha: Grada Publishing.
Lankard, B. A. (1995). Family role in career development. ERIC Digest, 164, 1-7.
Lawrence, D. (1992). The career officer: A marginalised member of the education family? School Organisation, 12(1), 99-111.
Metheny, J., McWhirter, E. H., & O'Neil, M. E. (2008). Measuring perceived teacher support and its influence on adolescent career development. Journal of Career Assessment, 16(2), 218-237.
Nilsson, P., & Åkerblom, P. (2001). Kariérové poradenství pro život: poradenská metoda budoucnosti. Brno: P. F. Art.
Organisation for Economic Co-operation and Development. (2009). Highlights from Education at a Glance 2008. Paris: OECD.
Reimer, D., Noelke, C., & Kucel, A. (2008). Labor market effects of field of study in comparative perspective. An analysis of 22 european countries. International Journal of Comparative Sociology, 49(4-5), 233-256.
Schulenberg, J. E., Vondracek, F. W., & Crouter, A. C. (1984). The influence of the family on vocational development. Journal of Marriage and the Family, 46(1), 129-143.
Smetáčková, I. (2005). Genderové aspekty přechodu žáků a žákyň mezi vzdělávacími stupni. Praha: Sociologický ústav AV ČR.
Smyth, J. (1993). A socially critical view of the self-managing school. London: Falmer Press.
Strádal, J. (2001). Člověk a svět práce pro 6.-9. ročník základních škol. Příprava na volbu povolání. Praha: Fortuna.
Super, D. E. (1990). A life-span, life-space approach to career development. In D. Brown, & D. Brooks (Eds.), Career choice and development: Applying contemporary theories to practice (pp. 197-262). San Francisco, CA: Jossey-Bass.
Taylor, M. J. (1992). Post-16 options: Young people's awareness, attitudes, intentions and influences on their choice. Research Papers in Education, 7(3), 301-335.
Teichler, U. (2007). Does higher education matter? Lessons from a comparative graduate survey. European Journal of Education, 42(1), 11–34.
Thomas, A., & Dennison, B. (1991). Parental or pupil choice: Who really decides in urban schools? Education Management and Administration Leadership, 19(4), 243-251.
Trhlíková, J., Vojtěch, J., & Úlovcová, H. Rozhodování žáků při volbě vzdělávací cesty a úspěšnost vstupu na trh práce: sonda založená na šetření absolventů středních škol, kteří se zúčastnili jako patnáctiletí výzkumu PISA-2003 a vybraného vzorku jejich zaměstnavatelů. Praha: Národní ústav odborného vzdělávání, 2008.
Tucker, C. J., Barber, B. L., & Eccles, J. S. (2001). Advice about life plans from mothers, fathers, and siblings in always-married and divorced families during late adolescence. Journal of Youth and Adolescence, 30(6), 729-747.
Velden van der, R. K.W., & Wolbers, M. H. J. (2007). How much does education matter and why? The effect of education on socio-economic outcomes among school-leavers in the Netherlands. European Sociological Review, 23(1), 65-80.
Walford, G. (1991). Choice of school at the first city technology college. Educational Studies, 17(1), 65-75.
Walterová, E., et al. (2009). Přechod žáků a žákyň ze základní na střední školu: pohledy z výzkumů. Brno: Paido.
Walterová, E., Greger, D., & Novotná, J. (2009). Volba střední školy ve vzdělávací dráze žáků. Brno: Paido.
Whiston, S. C., & Keller, B. K. (2004). The influence of the family of origin on career development: A review and analysis. The Counseling Psychologist, 32(4), 493-568.
White, P. (2007). Education and career choice: A new model of decision making. New York: Palgrave Macmillan.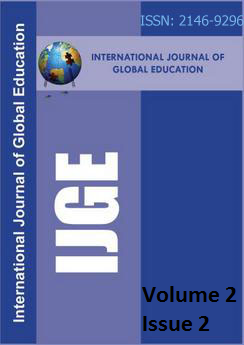 Downloads
License
Copyright (c) 2013 International Journal of Global Education (IJGE) ISSN: 2146-9296
This work is licensed under a Creative Commons Attribution 4.0 International License.